Dear Eden,
I would like to work the fairies more closely. What is a good way for me to do this?
Thanks, C.
Dearest C.,
Working with the fairies is little different from working with the angels, your guides, or various gods. You merely need to ask for assistance, and they will rise to the challenge.
Fairies are part of the elements, of nature, and so they are all around you. With you, they were designed by Source to protect and nurture your physical reality. They are creative creatures, molding and directing energy on your plane at all levels, and so they are particularly well-suited to help you with manifesting your desires and dreams. They have no problem bringing creative thoughts into the physical realm as real and tangible results. So fear not, and have faith. That is the first requirement. The second requirement to working with fairies is that you do not abuse the natural world. Pick up trash, be kind to plants and animals, do not waste resources or pollute.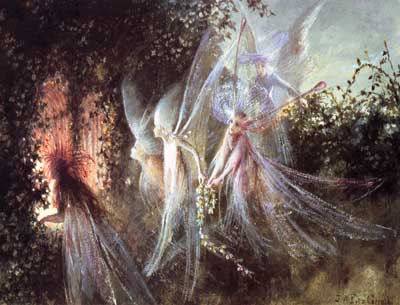 To ask your local fairies for help, go outside, or position yourself near a houseplant or crystal if you are indoors. Call on the fairies and state what you are wanting, and ask for their assistance. If you are a friend of the fairies, a friend of nature, they will joyfully assist you. Because they are part of the physical, they do appreciate physical gifts: leave the fairies a token of thanks, such as a shiny crystal or object, a floral candle, yummy treat (make sure you unwrap any candy or chocolate!) Then sit back, and allow yourself to believe that all will be well: that is your half of the work. If you feel the urge to do something nice for nature, do it right away: the fairies will be very appreciative: pick up trash on the road, donate money to an animal shelter, volunteer at a park. Soon you will see positive results.
Blessings,
Eden.